Thank you for shopping with PKE! We have done our best to make the purchasing process easy for you.
We are currently shipping only to addresses in the USA and Canada. When you enter your ZIP code (or postal code for Canadian customers), shipping charges will be automatically calculated for you by UPS. Please select the shipping speed you prefer, allowing 2 business days for us to process your order before we ship. (For customized products like note cards or wedding invitations, please allow 2-3 weeks from the time we finalize your artwork—don't worry, we'll be in touch right away to work out the details.)
We will do everything we can to prioritize rush orders. For example, if you order in-stock, non-customized items and choose Next Day Air shipping, we will ship the same day whenever possible.
Upon preparation of your shipment, you will receive an e-mail from UPS with your tracking number and other information. We will also keep tabs on your shipment to make sure delivery goes smoothly.
Payments made easy: We accept credit card payments (Visa/MC/AmEx/Discover) through PayPal, which we've chosen for its security, reliability and ease of use. You don't even need a PayPal account ce site! If you are not currently signed up with PayPal, simply click on the payment link on the left-hand side of the PayPal screen to pay with your credit card. We've highlighted an example in red below: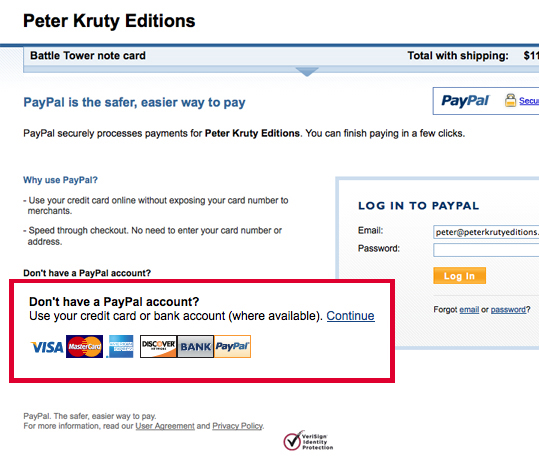 PayPal will calculate sales tax, if applicable, based on your location.
If you have any questions about your order, please feel free to call the studio at
(718) 788-1542 or e-mail store@peterkrutyeditions.com. Thanks again!